EBOOK >> GAMES - ACTIVITY BOOKS >> ALL ABOUT ASTROLOGY & TAROT
BACK

ALL ABOUT ASTROLOGY & TAROT

Astrology and Tarot, all about THE ASPECTS BASIC TAROT CARD READING DISPELLING SOME COMMON MYTHS ABOUT ASTROLOGY DIVINATION SPREADS HOUSE PLANETS THE 12 ZODIAC SIGNS THE CHAR WHEEL THE MAJOR ARCANA CARDS THE MINOR ARCANA CARD THE NATAL CHART THE SEVEN BASIC CHAKRAS..

Only 100 left

£ 3.50

No Shipping Charge
ALL ABOUT ASTROLOGY & TAROT
AN easy guide
TO
ASTROLOGY & TAROT READING
E-Book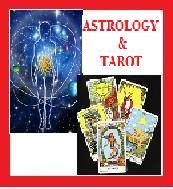 This book tells you all about
THE ASPECTS
BASIC TAROT CARD READING
DISPELLING SOME COMMON MYTHS ABOUT ASTROLOGY
DIVINATION SPREADS
HOUSE
PLANETS
THE 12 ZODIAC SIGNS
THE CHAR WHEEL
THE MAJOR ARCANA CARDS
THE MINOR ARCANA CARD
THE NATAL CHART
THE SEVEN BASIC CHAKRAS
This is a E-Book
What is an Ebook?
Ebook is an electronic book, one you read digitally on your computer, laptop screen or on devices called ebook readers. PDF format is a popular format for ebooks. All platforms are able to gain access and read PDF formatting. If you do not have adobe acrobat reader on your computer, you can download it free at adobe.com.
This is an eBook (electronic book) in .PDF format and requires Adobe reader (available free for any computer) or a compatible eBook reader.
There is no hard, bound version of this book
When you receive your item,
please take a moment to leave me a positive feedback.
I am an Authorized Reseller of this product and also the copyright holder and have resale rights to this item.
Please take a moment and view my other items
Note: I have full resale rights to this product granted to me by the author and copyright owner. I am licensed to sell this product.